Microsoft Outlook email client uses a PST file or Personal Storage Table to store all the emails, attachments, contacts, tasks, calendars, notes, and journals. PST file has so many advantages over other mailbox formats such as MBOX that it force users to convert MBOX to PST and switch to MS Outlook. But it has its own share of demerits too.
PST files can easily get corrupted. It can be due to the sudden shutdown of the Outlook application, hardware issues, faulty network devices or viruses. But whatever the reasons, PST corruption may result in complete loss of data if not handled right away. Therefore, in this article, we will repair PST file without Outlook. And will be implementing a free as well as an advanced repair tool for this purpose.
Method 1: Using Free Repair Utility To Repair Minor PST Corruption
Microsoft is aware of the sudden corruption of PST files. And that's why it packs the Outlook email client with a free PST repair tool. However, it only repairs the minor corruption and fails if the file is highly damaged. To use this repair tool, kindly follow the steps given below:
Locate the ScanPST.exe file on your computer. A simple search should suffice.
A common location is somewhat similar to "C:\Program Files(x86)\Microsoft Office\root\office16\"
Once you find it, start the tool on your computer. Make sure that Outlook is closed at that moment.
Browse and select the MBOX files that you wish to repair.
Click on Start to start the repair process.
If everything goes alright, the tool will successfully repair your file. If it fails, try repairing several times to ensure that it's not in the grasp of this free tool. Do note that this tool comes prepacked with Outlook and is not downloadable. If you don't have it on your system, or it fails repeatedly, then opt for the next solution.
Method 2: Using Advanced Repair Tool To Recover Files Irrespective of Corruption Level
The Advanced PST Repair Tool from DataHelp works both with Outlook and without Outlook. You can simply check/uncheck the "use Outlook" option in the tool's interface and repair all your PST files without any issues.
This utility has an easy to understand interface packed with powerful features. Its smart algorithms can easily repair both minor and major levels of corruption without any hassle. All you need to do is select the PST file(s), choose your scanning mode and the software will repair all your PST files into a healthy file format. It recovers everything from emails, contacts, calendars, tasks, notes, and journals quite easily.
Here's how you can use the software to repair PST file without Outlook:
1. Run DataHelp software and hit the Add File button.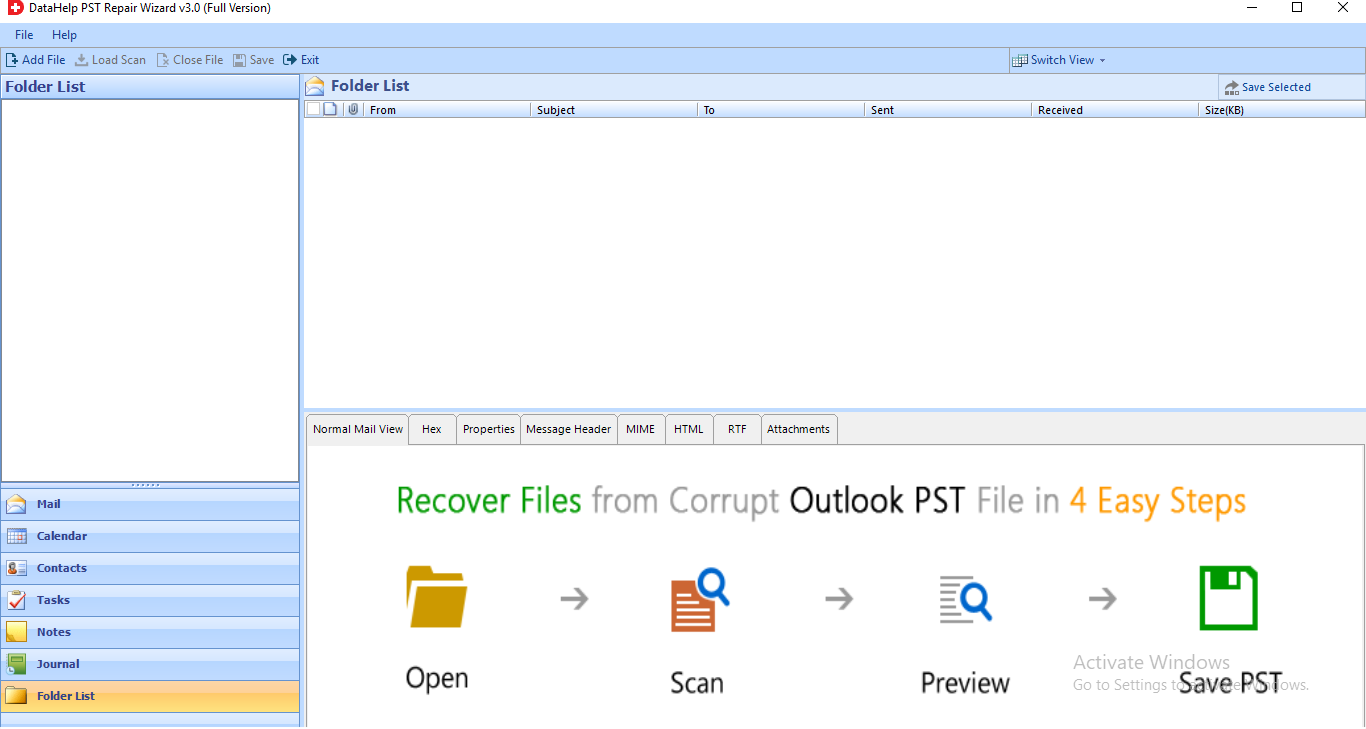 2. Browse and select the corrupt PST file that you wish to repair.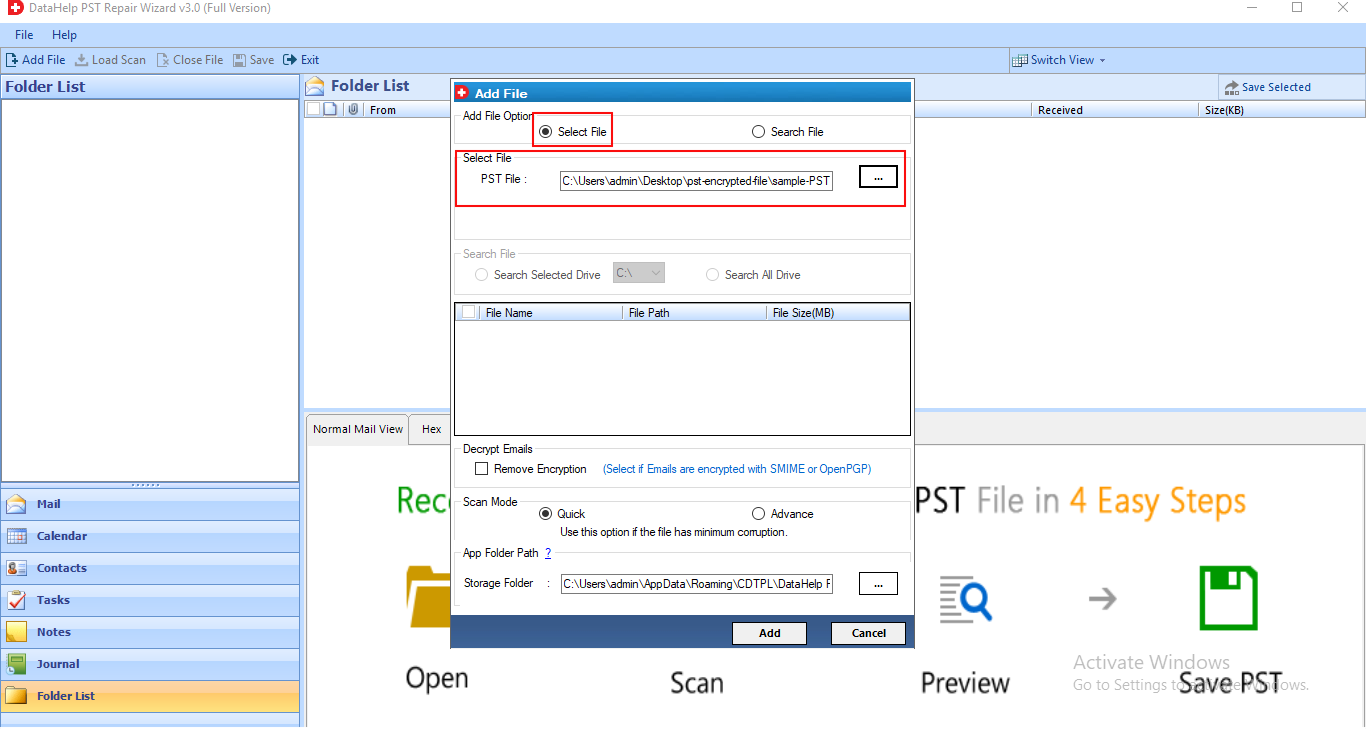 3. Choose your Scanning mode: Quick Scan repairs file with low corruption. If it does not preview your data correctly, then switch to Advance Scan to recover highly corrupted data.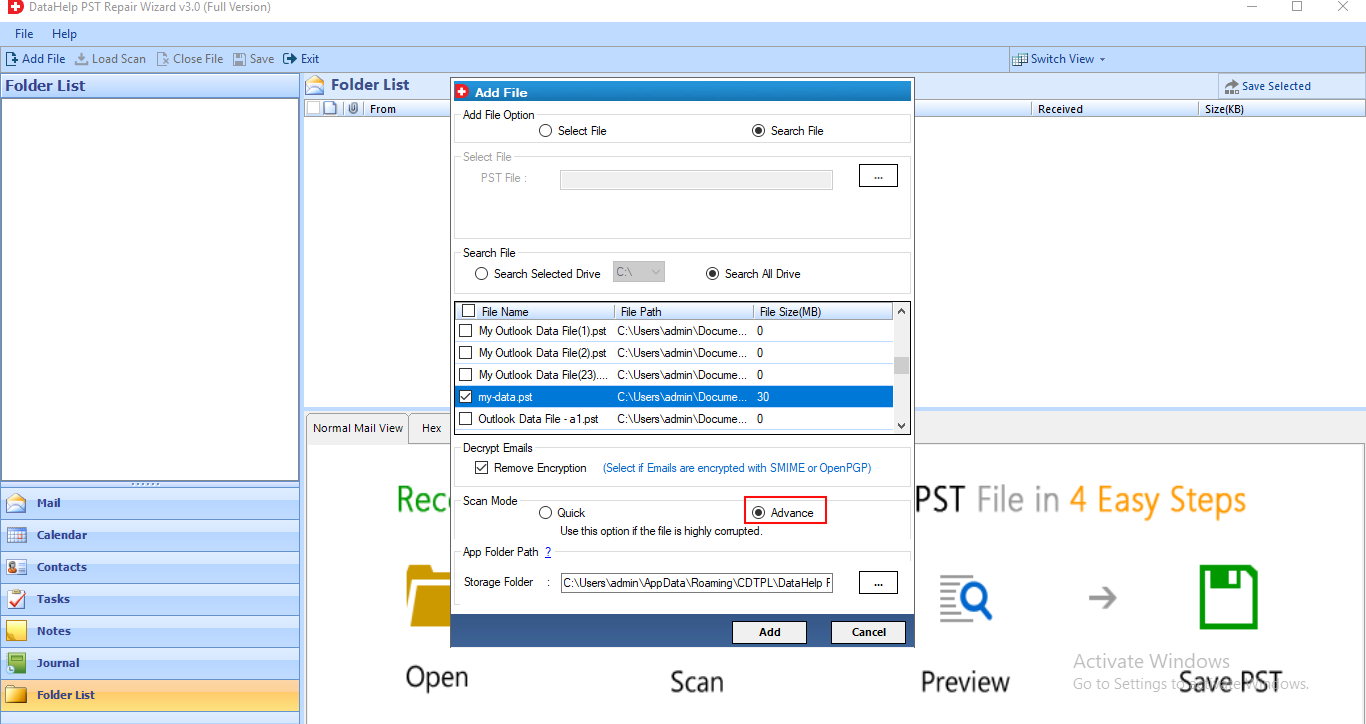 4. Once the files are added and scanned, the tool will display complete PST data i.e., emails, calendars, contacts, tasks, notes, and journals. Click on the menu Save button.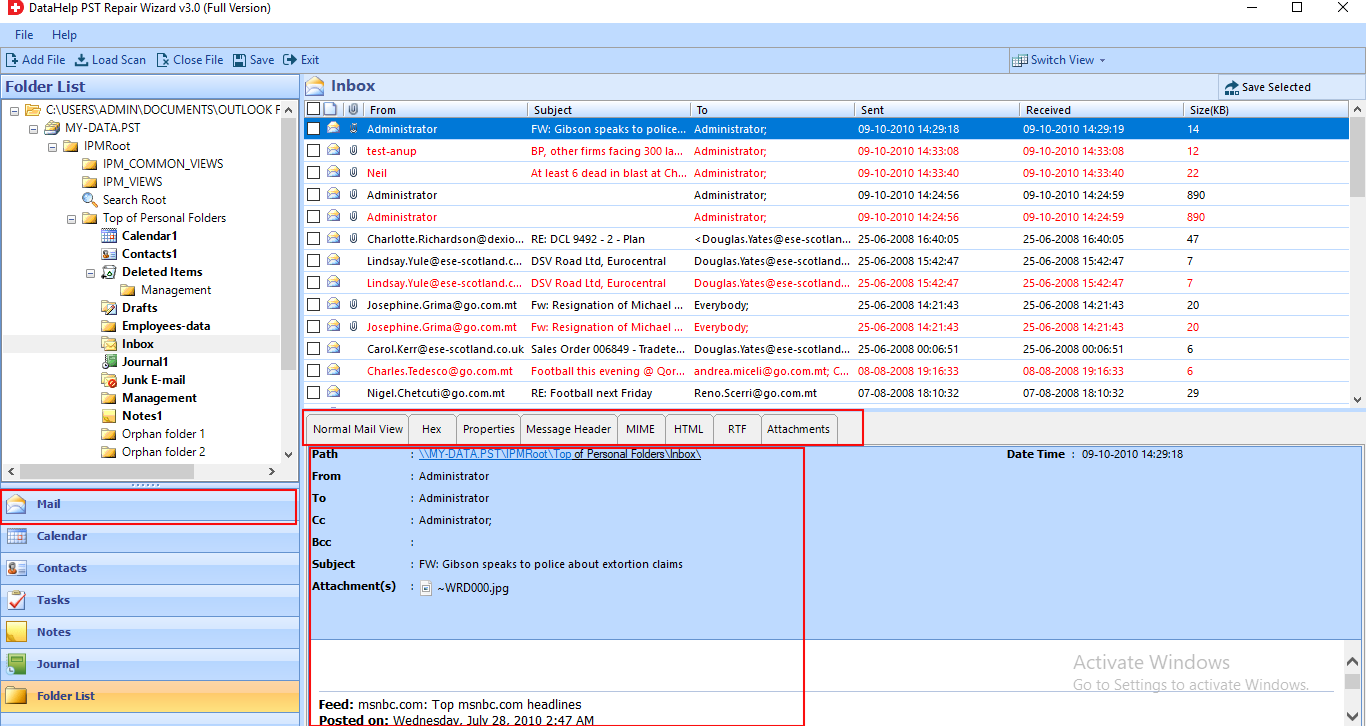 5. Make sure PST is selected to generate a new and healthy PST file. Click on Adv Settings button.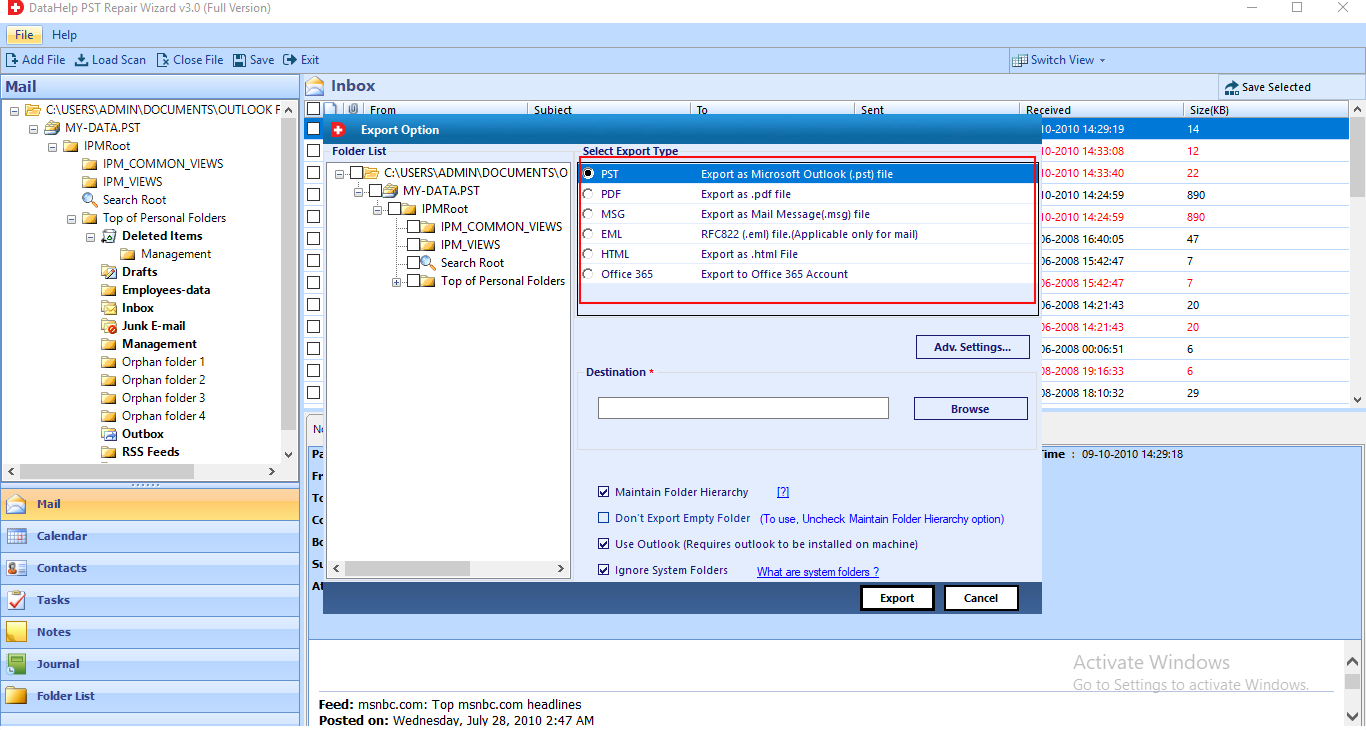 6. Now, as per requirements, set options such as Split PST, date filters, and categories of data items that you wish to recover.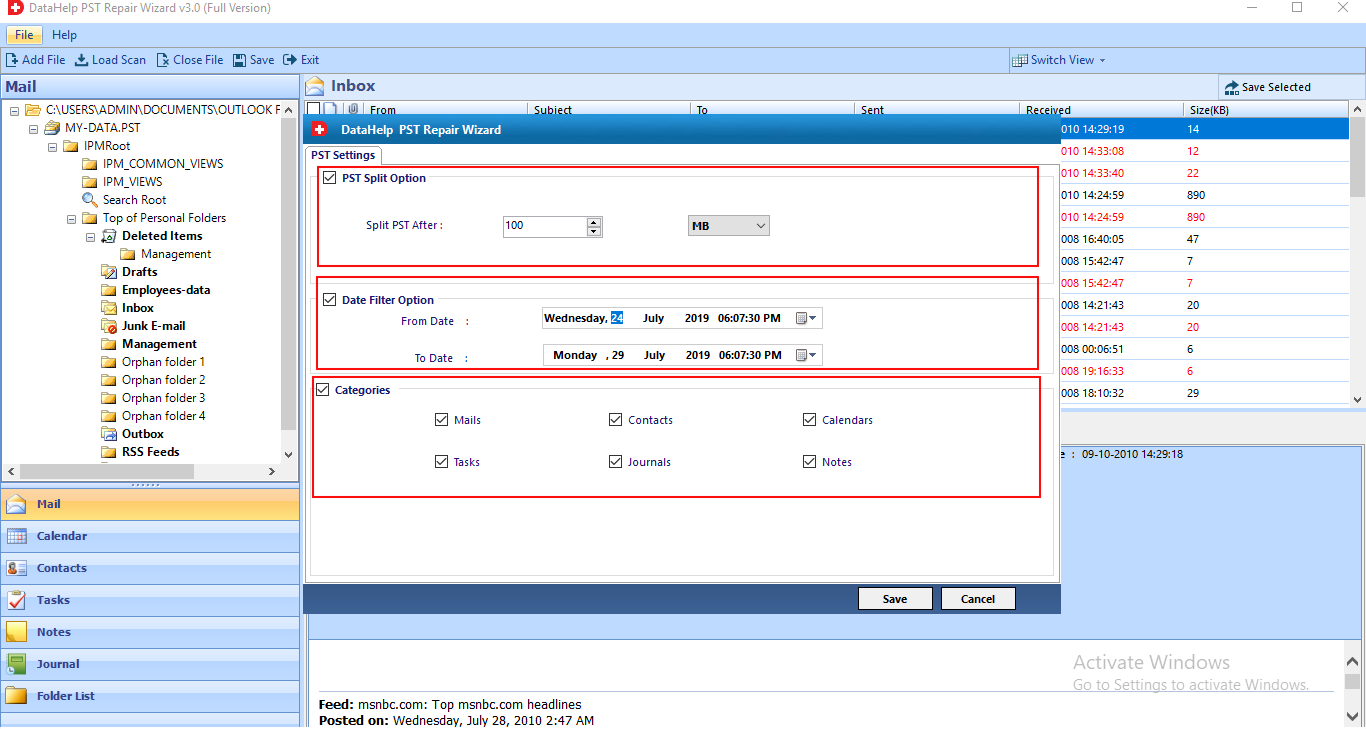 7. Set the location and other options such as Repair PST file without Outlook or with Outlook. Finally, click on the Export button.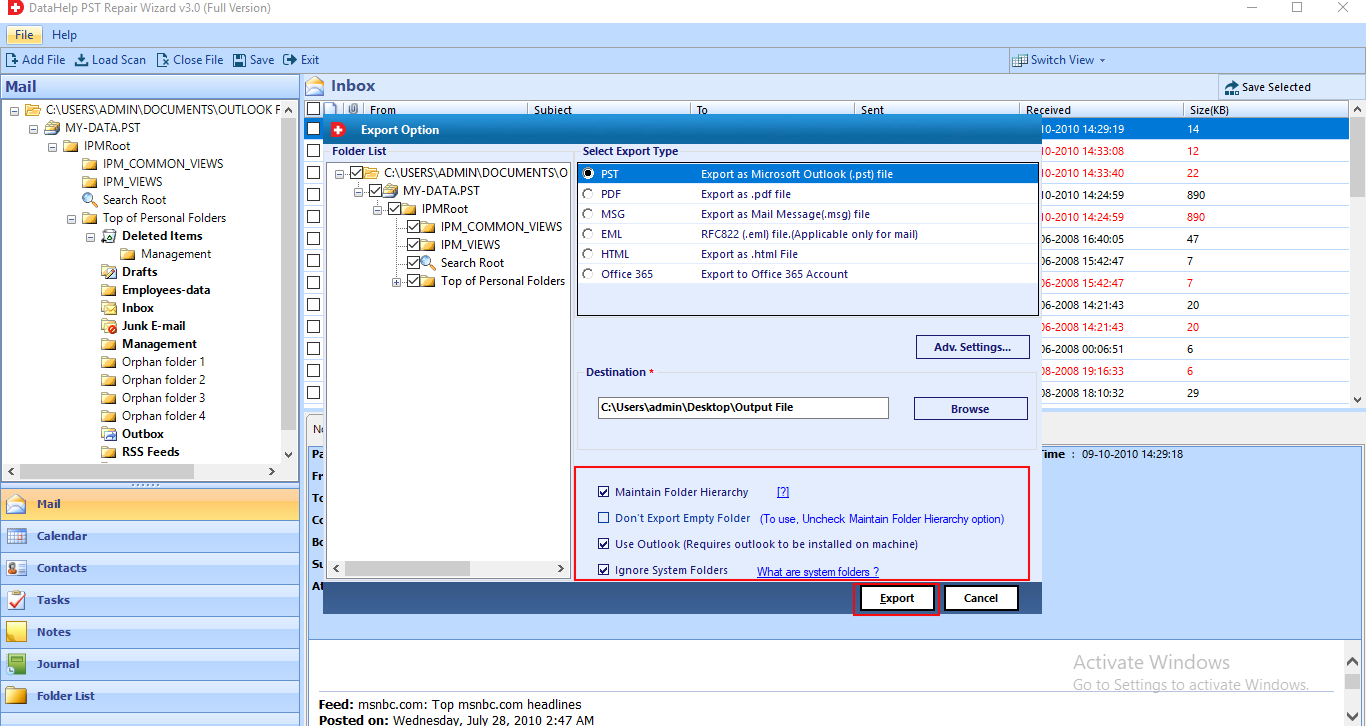 With this, all the selected data items will be recovered as healthy PST files. You can now easily view the entire content of the PST file in your Outlook email client. The tool can repair the PST files of Outlook 2019, 2016, 2013, 2010, 2007 & 2003 without any hassle.
Conclusion
Outlook PST files are prone to corruption as well as easily repairable when corrupted. All you require is quality and advanced PST file repair software. In this article, we gave solutions that can not only restore PST data with Outlook but also repair PST file without Outlook irrespective of the corruption level. The advanced recovery tool can also recover deleted Outlook emails from PST files. You can simply give its free demo version a try and witness the powerful repair capabilities of the tool.